GOLF CART USAGE UPDATE:
The Beverage Cart is available on the course each day between 7:30-2:00 (NO OUTSIDE ALCOHOL ALLOWED)
We have limited tee times due to the number of golf carts we have available. If you cannot find an available tee time before 12pm, chances are we have available tee times after 12. Please call the Pro Shop at 647-1100
Walking your round is not allowed at del Lago Golf Club
Walking, fishing, walking your dog, bike riding etc., are all not permitted at del Lago. del Lago golf course is Private Property and requires the individual to check in at the Pro Shop
Any further questions, please call the Pro Shop at 647-1100. All of the aforementioned information is subject to change, but current as of June 19, 2023.
Golf Rates
Please call the Pro Shop at (520) 647-1100 for the current rates.
Policy Changes as of September 1st, 2023
Del Lago will be going to credit card hold for reservations. Your card is used to hold your reservation and will not be charged unless you do not cancel within 24 hours of your tee time. Failure to cancel 24 hours prior to your reservation will result in your card being charged for all booked tee times.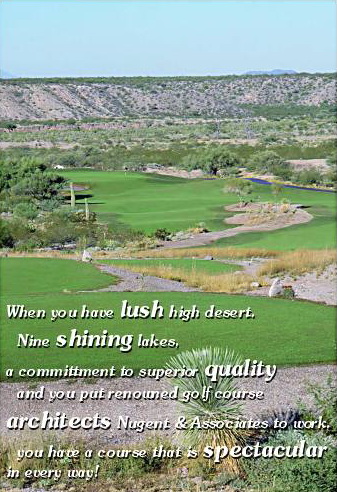 Tucson golfers greatly appreciate the natural beauty of a high course that rests at an elevation of 3,400 feet – five degrees cooler than Tucson during the summer. del Lago Golf Club serves as the centerpiece of Rancho del Lago, a master-planned community located about 20 minutes from downtown Tucson off Interstate 10. del Lago invites all golfers to come and play the course, built by Nugent Golf Associates, the same firm that produced the Tour stop Kemper Lakes.
With 120 feet of elevation change, the club's 1st hole begins at the highest point, then plays down into the valley, coming to the back nine, which runs along Pantano Wash. The course winds its way through the hills and valleys of the high desert, with spectacular and unique views of the backside of the Rincon Mountains and the Santa Catalina's. Except for the 1st hole, which has the course's only forced carry, del Lago is golfer-friendly off the tees. Let the more skilled players play the back tees, which at 7,206 yards, carry a rating of 73.9 and a slope of 135. Par is 72. Due to the layout of the course, the many elevation changes, and our commitment to Pace of Play we do not allow players to walk del Lago Golf Club. All tee time rates include a golf cart for your round.
The greens are Tif Eagle, a Bermuda hybrid, while the fairways are Bermuda in the summer and overseeded rye in the winter. Seven lakes come into play on six holes, affecting a variety of shots: some drives, several approaches – just enough to put a little spice into the round. Strong bunkering around the greens adds to the challenge. It all ends with a tough uphill par-4, 421-yard finishing hole that has water in play for two shots.
Del Lago offers 5 tees boxes, Black/Gold/Silver/Green and Tan, as well as being rated for Combo Tees to accommodate players of all abilities.